Simplify and secure enterprise networking with Emircom managed Cisco SD-WAN
Gitex, October 2023, by Ishaq Mohamad, Head of Managed Services - Saudi Emircom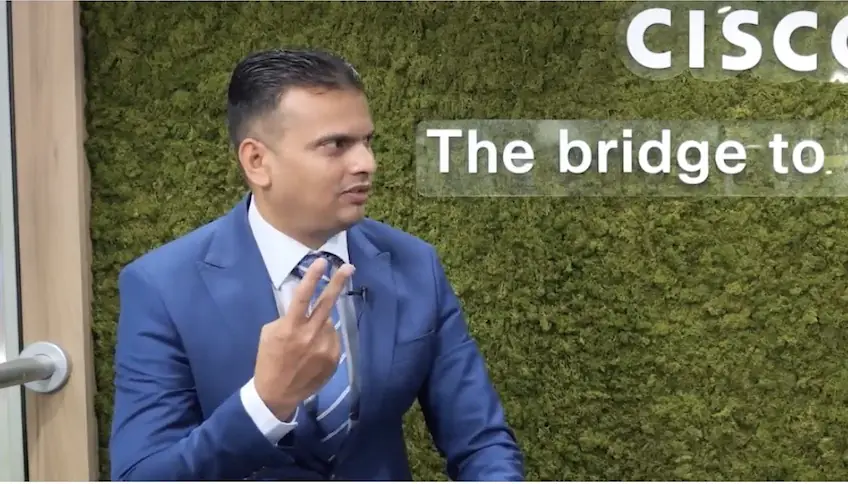 Key Takeaways
Emircom offers comprehensive Cisco-powered managed SD-WAN solutions that modernize enterprise networking through simplified management, hybrid connectivity, integrated security and improved application performance. With robust design, implementation and 24/7 support, Emircom enables organizations to seamlessly connect distributed locations and drive digital growth through SD-WAN adoption.
---
The global pandemic accelerated digital transformation, making enterprise networks more critical than ever. But traditional MPLS networks struggle to provide the flexibility, agility and efficiency needed for today's cloud and mobility needs. This is where SD-WAN comes in.
Software-defined WAN (SD-WAN) simplifies enterprise networking by decoupling the control layer from underlying hardware. This brings improved application performance, centralized management, and ability to use lower cost public internet links.
As a leading ICT solutions provider in the UAE and Saudi Arabia, Emircom offers comprehensive managed SD-WAN solutions to help organizations modernize their network. Powered by Cisco's cutting-edge SD-WAN platform, our secure managed services enable you to connect distributed locations seamlessly and drive digital growth.
Key Benefits of Managed SD-WAN from Emircom
Here are some major benefits enterprises can realize by adopting Emircom's managed SD-WAN solutions:
Improved application performance with intelligent path selection, traffic shaping and built-in optimization
Enhanced network agility through zero touch provisioning of new sites and ability to make changes centrally
Hybrid connectivity with simultaneous leverage of MPLS, broadband and LTE links based on application needs
Integrated security including next-gen firewall, IPS/IDS, web filtering, antivirus and encryption
Centralized network control and visibility through cloud-based management dashboard
Significant reduction in bandwidth costs by adding public internet links to supplement MPLS
Lower Total Cost of Ownership (TCO) from reduced hardware needs and simplified management
Higher reliability with continuous monitoring and automatic failover between links
Cisco-Powered Solutions for Every Networking Need
As a Cisco Gold Partner and a Cisco Premier Provider with Cisco Powered Catalyst SD-WAN , Emircom offers the complete range of Cisco SD-WAN solutions to suit your unique requirements:
Cisco SD-WAN – The core SD-WAN platform provides essential networking and security capabilities for hybrid WAN connectivity.
Cisco SD-WAN vEdge – Physical and virtual routers for both on-premise and cloud deployments of SD-WAN.
Cisco SD-WAN Cloud OnRamp – Seamlessly extends SD-WAN fabric into IaaS cloud providers to connect distributed locations.
Cisco SD-WAN Cloud Interconnect – Lets you implement a global multi-cloud ecosystem connecting regions, data centers and branches.
Cisco SD-WAN Security – Fortifies SD-WAN infrastructure with deep application-aware enterprise firewall, intrusion prevention (IPS) and web security.
Cisco SD-WAN Cloud Connect – Offers optimized, secure connectivity between branches and cloud environments like Microsoft Azure and AWS.
We also integrate optional value-added solutions like WAN optimization, remote access VPN and cloud security gateways based on your unique needs.
With robust design, implementation and managed services support, Emircom makes it easy to deploy Cisco SD-WAN and achieve your digital transformation goals.
SD-WAN Use Cases Optimized for Your Industry
Emircom has deep expertise in implementing SD-WAN solutions optimized for different industry verticals:
Banking – Link branches and enable secure connectivity to hybrid or multi-cloud environments
Education – Connect campuses and locations across metro areas with a high-performance WAN
Healthcare – Build a digital ecosystem linking hospitals, clinics, telehealth platforms and more
Retail – Support POS systems, security cameras, digital signages across stores with unified management
Energy – Connect oil rigs, pipelines and distributed sites with reliable, real-time monitoring
Government – Extend consistent network policies and security to agencies spread across remote locations
We tailor the SD-WAN architecture to your unique needs whether point-of-sale transactions, ERP systems, e-learning platforms or remote asset management.
Get Managed Services Support from Our Experts
To help you maintain your SD-WAN infrastructure, Emircom offers complete managed services either fully handled or co-managed as per your preference:
24/7 monitoring and troubleshooting from our advanced NOCs in Dubai and Riyadh
Regular maintenance, upgrades and patching for software and devices
Ongoing configuration and policy management aligned to your needs
Proactive performance optimization and reporting
Regulatory compliance audits and processes
Helpdesk and technical support through phone, email or service portal
Our managed SD-WAN services ensure your network keeps delivering optimal performance while you focus on your core business. We take end-to-end responsibility for availability, agility and security.
SD-WAN: The Network Architecture of the Future
With exponential growth in SaaS adoption, hybrid cloud and mobile users, legacy MPLS networks are no longer adequate. Migrating to SD-WAN gives your organization the intelligent, dynamic and efficient connectivity needed for digital growth.
Partnering with Emircom for managed Cisco SD-WAN solutions allows you to modernize your network infrastructure with minimal disruption.
Contact our experts today to evaluate your needs and discuss how SD-WAN can benefit your enterprise.
UAE: Nishant Nair
KSA: Ishaq Mohammed