Software-defined networks are a fundamental move away from traditional networks with specific hardware functions to software that provides network wide features, functions, and policies easily applied using automation.
Software-Defined Networking changes the way we think about, plan, deploy, and operate networks to best meet business needs.
Selecting your ideal Partner for your comprehensive SD-WAN Service. By providing all-inclusive SD-WAN services, we strive to facilitate a smooth transition for your organization. Our experts design, procure, and implement the solution across multiple locations, mitigating initial challenges while enhancing network performance and maintaining maximum uptime. The true advantage lies not only in the SD-WAN results but also in the comprehensive service offerings.
At Emircom we design and construct adaptable, secure, software-defined networks that link people with one another, people with technology, and technology with other technology.
Emircom
SD-WAN-

Services
Networking solutions
everage our SD-WAN expertise for optimized network performance. Our managed SD-WAN services provide secure connectivity, application visibility, and simplified network management to boost productivity across your distributed enterprise.
Hybrid cloud solutions
Harness the power of hybrid cloud with our secure SD-WAN managed services. Seamlessly connect your on-prem and multi-cloud environments for ultimate flexibility and scalability. Our experts customize solutions to optimize performance, security, and cost-efficiency across your hybrid IT infrastructure.
Mobility & wireless
Unleash your workforce with our robust mobility and wireless solutions. Our SD-WAN managed services provide secure, high-performance connectivity for a distributed workforce across multiple locations. With real-time network insights, we optimize and troubleshoot issues remotely, keeping your team productive and reducing IT costs.
Data protection
Safeguard your sensitive data with our secure SD-WAN solutions. Our managed services utilize the latest encryption and access controls to protect your network traffic and information. Trust us to keep your data protected and compliant.
Networking & hybrid cloud advisory
Leverage our expertise to optimize your network and seamlessly integrate cloud solutions. Our experienced team provides strategic guidance to maximize performance, security, and cost-efficiency across on-premises, multi-cloud, and software-defined infrastructures.
Cisco-based

Managed SD-WAN
Mitigate risks
Our SD-WAN specialists have a proven track record in deploying Cisco SD-WAN solutions for businesses of all sizes. They are adept at resolving any issues that may arise, ensuring a seamless deployment of your SD-WAN solution.
Access to a wide range of vendors & technology solutions
Our extensive experience with Cisco SD-WAN solutions has allowed us to establish strong relationships with a diverse range of vendors offering a plethora of technology solutions. We leverage this knowledge to design the ideal end-to-end SD-WAN solution for you.
Swift implementation
Partnering with us for your Cisco SD-WAN solution implementation guarantees a faster deployment compared to a DIY approach. We have the expertise and vendor relationships to expedite the process once we understand your company's needs.
End-to-End management
We serve as your single point of contact for your SD-WAN infrastructure, taking care of updates, routine maintenance, required service, and other minor nuisances that come with new technology. Why Partner with Us?
Profound expertise
Our expertise extends beyond Cisco SD-WAN. We have a comprehensive understanding of the IT field, enabling us to integrate your SD-WAN solution seamlessly with your existing technology infrastructure and applications.
Flexibility
We collaborate with you to develop a roll-out plan that suits your needs. Whether you want to test your SD-WAN solution in a few locations or work within specific deadlines, we can accommodate your requirements.
Agility
Our partners offer adaptive network control, allowing you to adjust network capacity on-demand to meet your needs. We can also manage virtual connections to any cloud providers you currently work with.
Variety of technology options
We have established relationships with a wide variety of vendors offering multiple technology options. You won't have to settle for a technology solution that doesn't suit your needs due to limited availability.
Multiple connectivity options
Whether it's MPLS, Internet, or Wireless, Cisco SD-WAN can work with all. When you partner with us, you gain access to the full spectrum of transport options. We can even collaborate with your existing services partner.
Security
We offer a range of security options that you can choose to utilize. Features like intrusion detection and prevention (IDS/IPS), unified threat management, distributed denial-of-service (DDOS) prevention, and encryption will fortify your SD-WAN solution.
Managed SD-WAN

Benefits
A secure, IP-based virtual overlay network
Independence from the transport of the underlay network
Assurance of each SD-WAN tunnel's service
Application-driven packet forwarding
High availability through multiple WAN links
Policy-based packet forwarding
Service automation through centralized management, control, and orchestration
Managed

Delivery Models
The Controller can be deployed globally through the power of the Cisco SD-WAN network. Customers choose from the nearest or preferred regional hosting. hyperscale's such as Amazon Web Services (AWS), Microsoft Azure, Google Cloud Platform (GCP),
In a single tenant solution, the SD-WAN controllers are deployed in Emircom's datacenter within Saudi or the UAE.
In the case of a multi-tenant requirement, the controllers are deployed at Emircom datacenter within Saudi or UAE region. The controller platform is built as muti tenant environment to host multiple customer(s). Each Customer Tennant is clearly segregated. The policies of each tenant are individually configurable to meet specific business demands, ensuring 100% traffic isolation for each customer. This option good choice for reduction in costs.
The controllers are deployed in the customer's own datacenter or their premises. The controller are dedicated and managed remotely from Emircom's NOC through Secured VPN. This deployment is finetuned to meet the particular security requirements, regulatory compliance concerns, data sensitivity, or existing infrastructure investments of customer.
Emircom Managed

 SD-WAN Tiers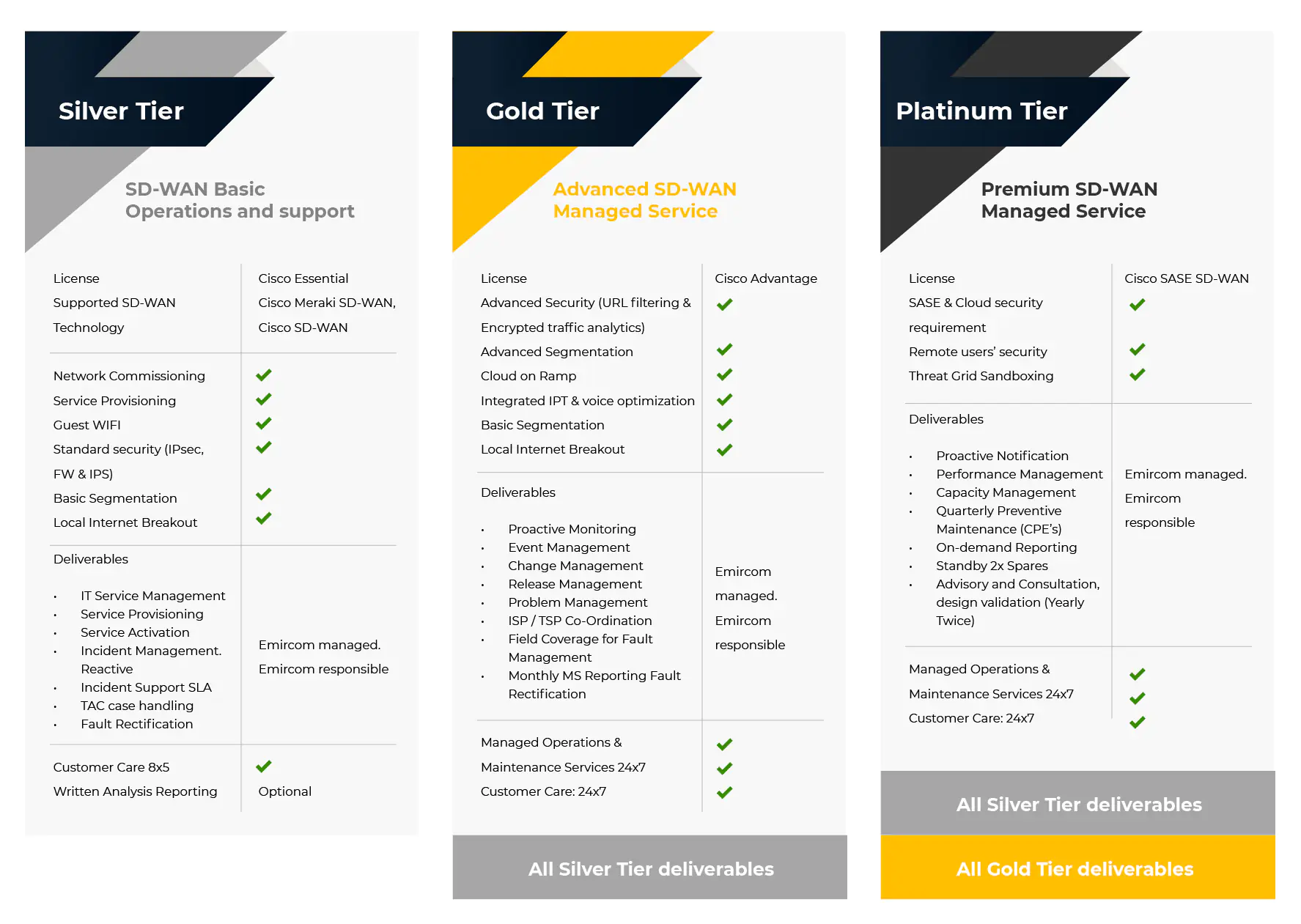 Deliverables

per Service Tier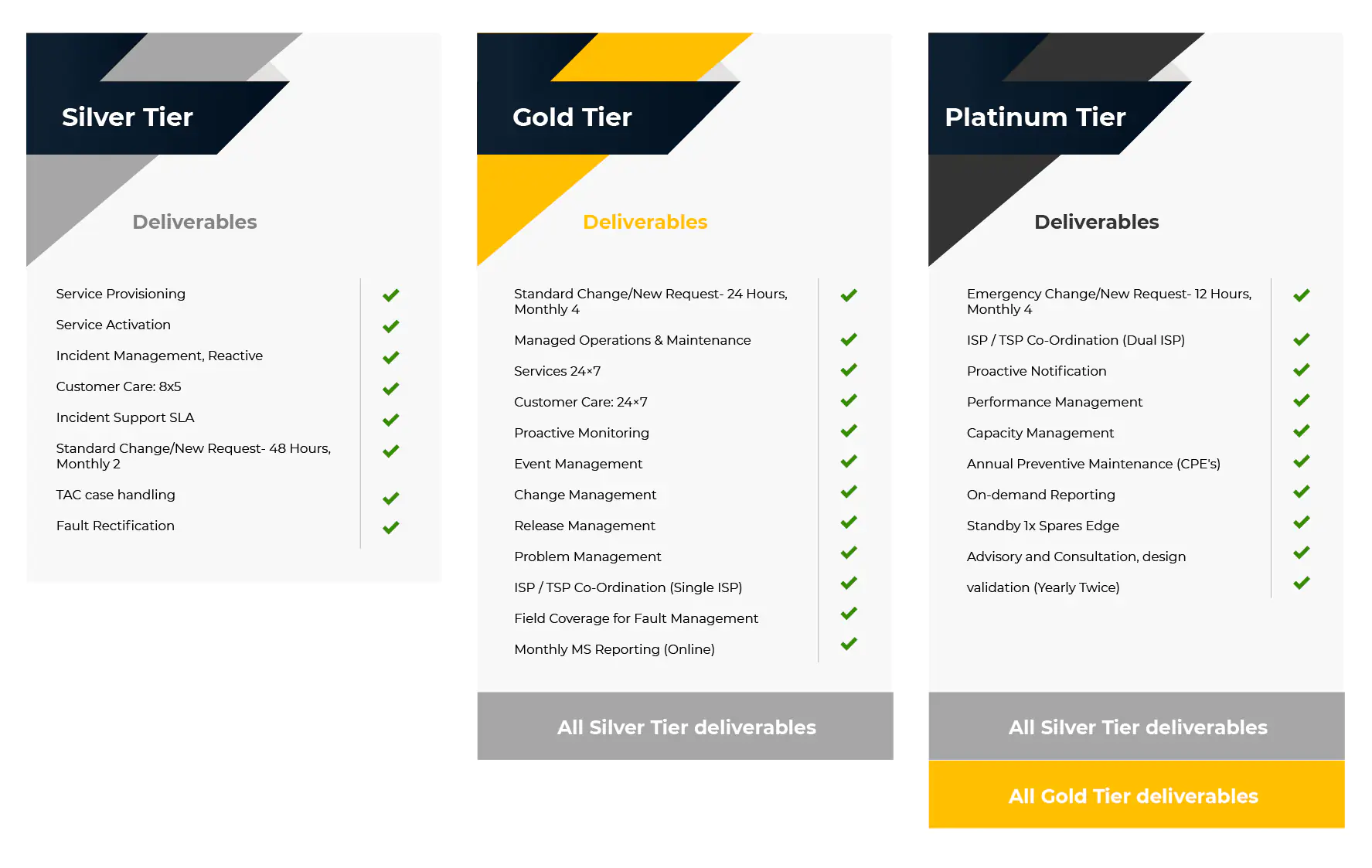 A

vailability &

 Hosting Models

The Managed Services team of Emircom in both the UAE and the KSA have the expertise, tools and manpower to deliver SD_WAN Manage Services.
Whilst the devices and links could be anywhere in the world the location of the controllers can be either in country or hosted by a hyperscaler.

SD-WAN service controllers and their associated management software can be hosted in any one of the following configurations:
Cisco Hosted Multi-Tenant Service (outside Saudi Arabia/UAE)
Emircom Hosted Multi-Tenant Service (within Saudi Arabia/UAE)
Emircom Hosted Dedicated Tenant Service (within Saudi Arabia/UAE)
On Premises Hosted (Customer Premises)